Along with adding your OpenMenu to a Facebook page tab you can add your OpenMenu to Facebook mobile.  Follow the simple steps below and your OpenMenu will display a menu link on Facebook mobile.
note: This will only work on business type pages as Facebook only supports advanced features for restaurants on these business type pages.
Follow these simple steps:
1. Go to your restaurant's page on Facebook.
2. Edit your page's About Section by hovering over the pencil icon and clicking Edit.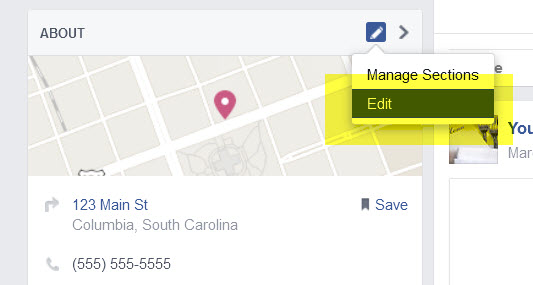 3. From the Page Info section find and click the Edit link next to Menu line
4. From the Manage Menu dialog select the Link to Website Menu tab and add a link to your restaurant on OpenMenu.
If you're having trouble identifying your restaurant's page on OpenMenu see our help article on What are the different OpenMenu URLs for my restaurant – format is http://openmenu.com/restaurant/Your_OpenMenu_ID