Adding a coupon or deal for your restaurant is simple using the power Deal/Coupon Manager.  This manager will let you define various types of coupons and deals that remain in your control.

Steps:
1. Access the Deal and Coupon Manager
2. Click the Add New button

3. Enter the required information and set any options to fully define the limitations of your deal (sample types)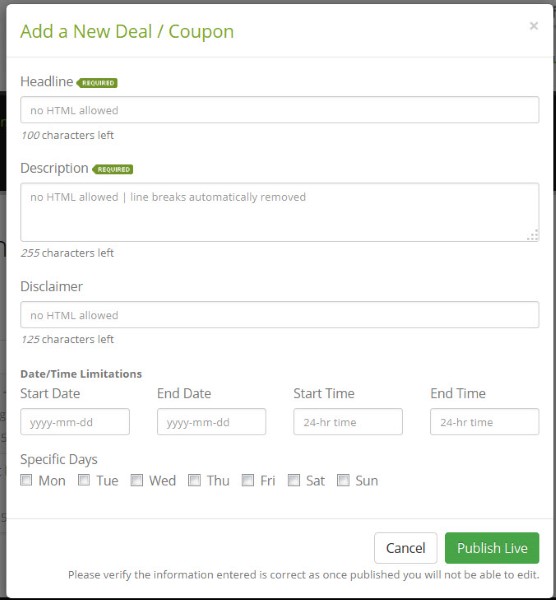 4. Press Publish Live
The public link and social integration buttons in your deal manager can be used to promote your deals across Facebook or Twitter (these appear after a page refresh when adding a new deal). We'll automatically show your deals on Facebook (using OpenMenu Tab), the mobile site, OpenMenu Embedded and your web page on OpenMenu.
As your deals are shown we'll give you live stats.  Just revisit the deal/coupon manager for updates to your deal stats.
Notes:
Deals and Coupons cannot be edited.  Once published the deal can only be turned off or deleted.  Reason is to ensure the accuracy of your deal statistics.
Deals can be turned on and off without removing them from your account using the on-off slider (shown above)
Deals and Coupons are unlimited with a Premium Plus Package. Free Accounts can create one new deal per month.