The easiest way to grow your customers and manage your Restaurant. Check out the most powerful global restaurant platform.
OpenMenu helps restaurants be

connected

in control

social

empowered
One menu, one location, infinite possibilities.
Trusted by restaurants in all 50 states and over 100 countries.
We are now offering Nutrition Analysis and Nutrition Labels
9000+ ingredients, 700000+ nutrients, we handle it all for you. Now that's powerful!
Increase Customer Exposure
Our menus are designed for exposure. From your website to Facebook to Twitter to mobile, your customers will find you.
Better Menu Control
We take the difficulty out of managing your online menu by providing one of the easiest, and most powerful, solutions around.
Deals and Coupons
Put your deals in front of your customers and potential customers. Your deals, your control, where you want them. Finally!
Socially Connected
Let your restaurant's menu connect with social presence live and in real-time. We handle all the updates for you.
See How Customers Find You
Better information on your customers and your restaurant's online presence. What we know we give you access to.
Easily Go Mobile
Customers will find you on-the-go with the free mobile website we give all restaurants. Powerful enough to run on any device.
Protect Your Brand
Control the colors, fonts and style for your restaurant through OpenMenu. Millions of colors, hundreds of fonts.
Menu Translation
Our one-click menu translator can translate your menus to and from over 60+ languages. Couldn't be easier.
FREE Website
Every restaurant on OpenMenu gets a free website. Powerful, mobile friendly, works on tablets, fully customizable (Sample). Wow!
Understand Your Menu
Complete nutrition analysis for your restaurant's menu with customer friendly nutrition labels.
Know Your Guests
Better tools to understand your guest & understand your restaurant with our Guest Surveys.
---
Our customers like that OpenMenu is a

global

easy-to-use

powerful

centralized

Restaurant Platform...
Changing the way restaurants do business online.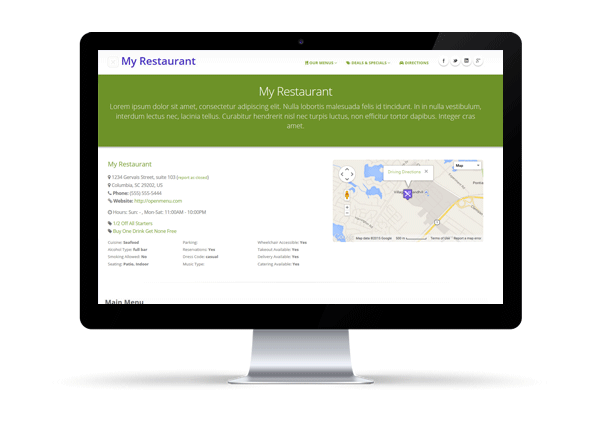 now with built-in OpenMenu+ Technology
Our Nutrition Analysis is aligned with the USDA and their message of healthy eating through their MyPlate initiatives.
Know Your Menu, Know Your Customers
better menu analytics with OpenMenu
Real-Time Analytics on how your customers find you. From where your customers are viewing your menu to the most popular times and days your restaurant's menu is being viewed.
Giving more so you can make better descisions about your menu...
Thanks to the standardised yet flexible format we are able to present our menu in a variety of attractive ways to our customers.

- Makan Makan (Sim Loo, Owner)
OpenMenu gives us the power to update and control our menu across all of our online venues seamlessly. We love the power of OpenMenu

- York River Oyster Co.